What is the Largest Casino in the US?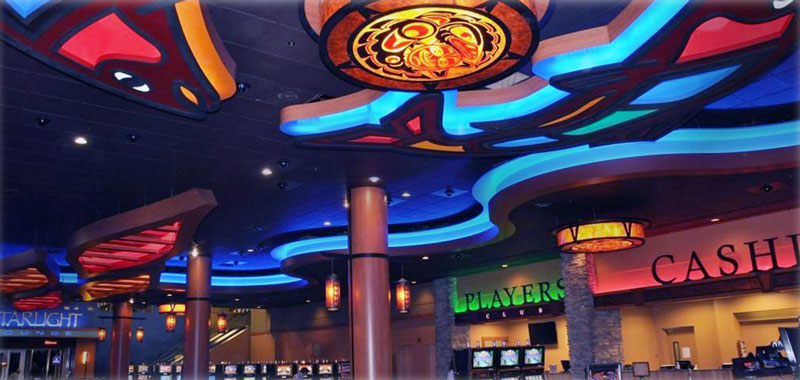 If you are tired of gambling on your desktop and play real money mobile slots then you definitely need to visit one of the magnificent brick-and-mortar venues.
Casino
Location
Size (Square feet)
Slot/gaming machines
Table games
Poker tables
Tulalip Casino

Washington

192,000

2,200

over 35

–

Pechanga Resort and Casino

California

200,000

4,000

154

153

Soaring Eagle Casino & Resort

Michigan

210,000

3330

60

Seminole Hard Rock Casino

Hollywood

216,000

2000

over

100

50  

Choctaw Casino Resort

Oklahoma

218,000

4100

8

26

Riverwind Casino

Oklahoma

219,000

2,800

27

17

Mohegan Sun

Connecticut

300,000

5,000

300

40

Foxwoods Resort Casino

Mashantucket

337,000

4,800

250

Winstar World Casino

Las Vegas

519,000

100

55
The United States is home to some of the best casinos in the world. But, most people don't know which casino is the biggest one.
There are well over 450 casinos in the United States of America. And, among those, there are some of the most extravagant establishments in the world. Casinos like Bellagio on the Las Vegas strip are famous for their luxurious design and top-notch services.
Most people have heard of casinos like Bellagio, Caesar's Palace, the Venetian, and Paris. Those Las Vegas casinos commonly appear in movies and TV shows to dazzle us with their grandiose appearances.
But not everyone knows which casino holds the title of the biggest one. So, let's take a look at some of the top casinos as they rank by size. And, of course, we will pay special attention to the number one spot on this list.
Disclaimer
Unfortunately, while we did our best, we were unable to confirm the size of several casinos in the states. The reason for that is very simple – not all casinos are open to sharing that information. For example, Native American gaming halls and casinos usually don't publish their square footage.
Also, some of the large casinos that can potentially earn a place on this list have contradicting information online, so we had to remove them as well.
The Largest Casino in United States
Before we actually get to the biggest casino on in the United States of America, we should probably mention that there are other casinos that had either held that title earlier, or that came close to claiming it. So, let's take a close look at each of those.
10. Tulalip Casino (192,000 sq. ft)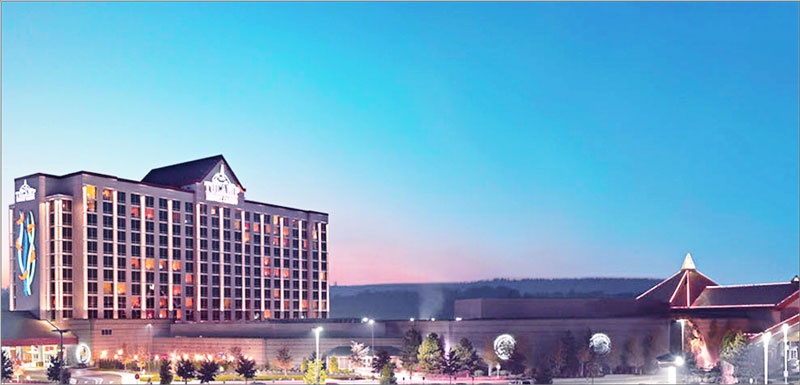 The first entry on our list is a resort that features an admirable number of 2,200 slot games and over 35 table games. This Washington-based casino is a favorite place to gamble for thousands of people that live near the US/Canadian border.
9. Pechanga Resort and Casino (200,000 sq. ft)
Pechanga is the biggest Californian casino with an amazing offering of over 4,000 slot games, 154 table games, and a huge bingo room. Now, we have to mention that, until recently, the resort didn't have enough square footage to qualify. But, they have been steadily growing in the past years and are now one of the casinos with the most games in their offer.
8. Soaring Eagle Casino & Resort (210,000 sq. ft)
The Soaring Eagle Casino Resort is housed in the very heart of Michigan. In it, you will find thousands of gaming machines, various table games, and even a poker room that works 24/7.
7. Seminole Hard Rock Casino (216,000 sq. ft)
This Hotel and Casino institution works 24 hours a day to let their customers play around the clock. And, they offer 50 poker tables for the fans of this exciting game. Overall, this place has everything you need to satisfy your gambling urges.
6. Choctaw Casino Resort (218,000 sq. ft)
This Oklahoma casino features over 4,100 slots and similar machines, a wide variety of table games and many other features. The resort has recently expanded their premises and added a whole new Spa Tower Hotel to the offer.
5. Riverwind Casino (219,000 sq. ft)
Oklahoma boasts several of the largest casinos out there. And, Riverwind casino in Norman is one of them. It features well over 2,800 slot machines, over a dozen poker tables, betting, Keno, and even a high-baller room.
4. San Manuel Indian Bingo & Casino(220,000 sq. ft)
To visit this casino, you would have to go to California. With its incredible gaming space area, this casino hosts 3,800 slots, multiple table games and a dedicated poker room that has almost 40 tables to play from. You can even find table games that allow visitors to play with $2,000 per hand.
3. Mohegan Sun (300,000 sq. ft)
While Mohegan Sun technically consists of three separate casinos, it is operated by a single tribe. So, we will treat the complex as a single Mohegan-tribe casino. It boasts over 5,000 slot machines, 300 table games, and a poker room with over 40 tables.
2. Foxwoods Resort Casino (337,000 sq. ft)
Foxwoods resort casino is the second largest casino in the United States. But, even with that in mind, it is the single largest casino resort. The main reason for that is the fact that, while the size of the casino isn't nearly as big as the size of the first casino on our list, the size of the resort that is connected to that casino is mind-blowing.
Namely, with the size of the entire complex, the Foxwood boasts over 9 million square feet of indoor space.
But, we are not here for the second largest casino. So, this is where the first place steps in:
1. The Largest Casino In The United States – Winstar World Casino (519,000 sq. ft)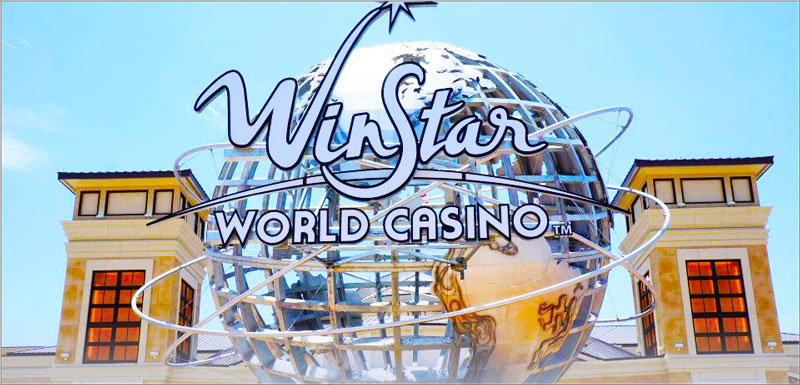 Believe it or not, the biggest casino in America isn't found in Las Vegas, Nevada or Atlantic City, New Jersey. In fact, it sits in a small town in South Central Oklahoma – Thackerville. Thackerville only has around 450 residents. But, the town boasts a casino that can offer over 1,000 square feet of space for every single citizen. Namely, the Winstar World Casino offers a total square footage of around 519,000 square feet.
And, that number only includes the gaming area. If we loosen the definition up and dare to include the square footage of the hotels, restaurants, and all of the other amenities that this establishment offers, we can quickly find out that the resort actually boosts well over 1.2 million square feet.
When you take a look at this incredible casino, it is hard to believe that it began as a very simple bingo hall. In fact, it worked under a single tent. Nowadays, on the other hand, this casino features almost 7,500 games and 100 tables to play from.
Even the buffet of this hotel is incredible. After all, it can seat up to 500 people at the same time. The only casino in the world that can boast a larger gambling area is the Venetian Macao from China that was originally made in 2007, apparently with the intention of overthrowing Winstar as the biggest in the world.
Conclusion
While the Winstar is not the most popular casino in the world, it is definitely a casino to see at least once in your life. The sheer size of this grandiose institution is exactly what the title says: the largest casino in the United States.
In the end, no online article can't truly convey the size of this place with a feeling of accuracy. In order to experience the magnitude of the building and the gambling area, you simply have to visit the biggest gambling den in the United States of America. Some of the regular players might recommend buying or renting a scooter to help you get around, although, we can't advise if the staff will allow you to do so.